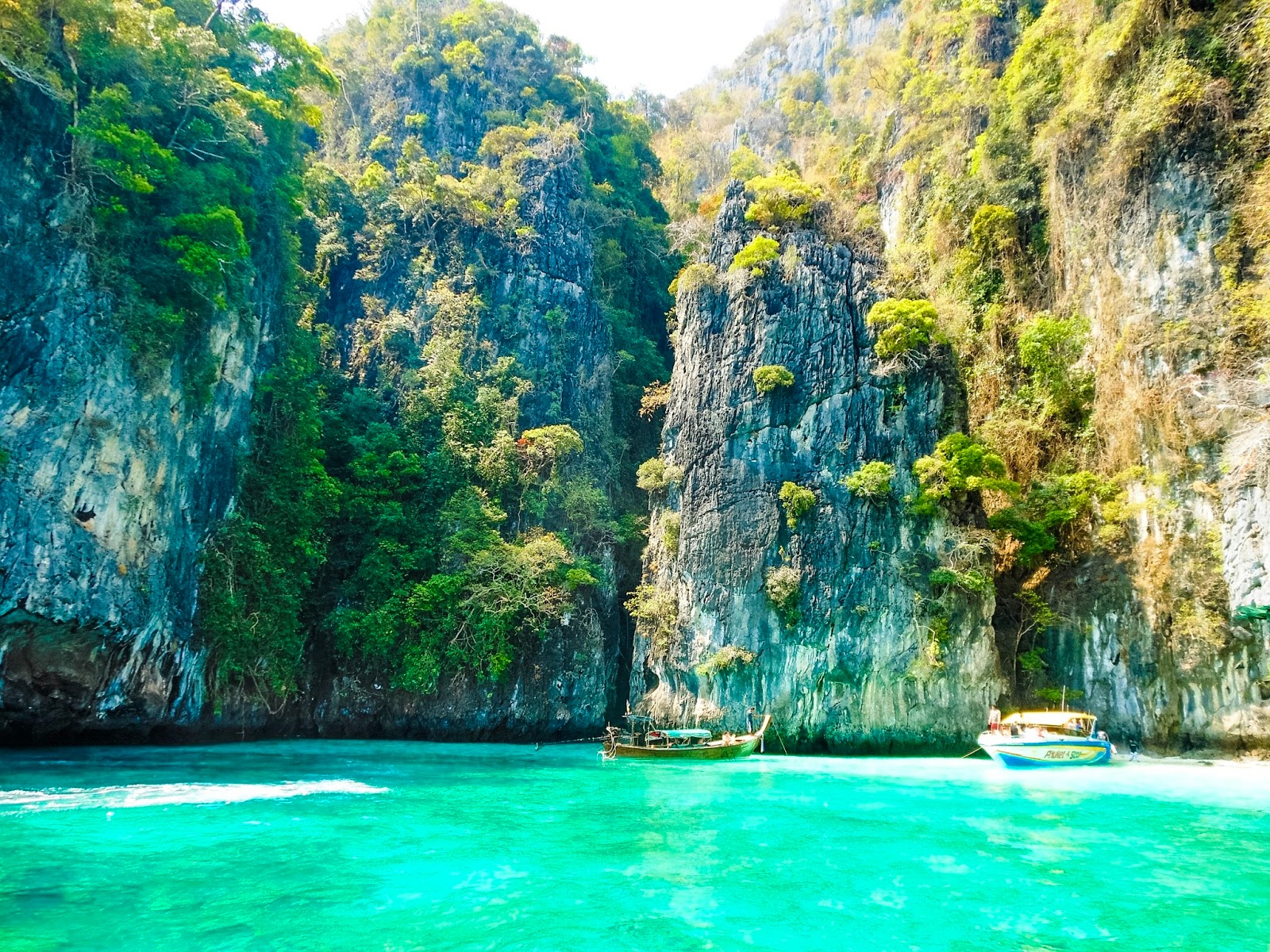 #TBTravel: Phi Phi Island
The Phi Phi Islands tour was by far my favourite experiences from my time in Thailand. Phuket is known for it's Phi Phi Island and James Bond Island day tours. As we were only in Thailand for 6 days we decided to just do one of the tours, to allow enough time for other activities. We chose the Phi Phi Island tour and it was probably my favourite day of the whole trip! The tour took us to many different locations around the Islands of Phi Phi Lae and Phi Phi Don, and stopped for many different activities. I couldn't believe that the places were even more beautiful in real life than all the pictures and postcards I had seen.
We were picked up from our hotel lobby at around 8am, and taken to the marina where we boarded a speed boat. We were instructed to sit up the front of the speedboat, which resulted in a very bumpy but more exciting ride to our first stop, which was Monkey Beach.
We stopped at Monkey Beach for about 15 minutes. We didn't get off the boat, but we did get a good view of all the monkeys that were swinging around in the trees and lounging on the beach! The monkeys are rumoured to be a little aggressive, which is why our tour guide didn't let us off the boat – however there are tours that allow you to jump off the boat on Monkey Beach if you want to get closer to the crazy little animals!
From Monkey Beach we stopped to do some snorkelling just a little way out from Phi Phi Don. That was amazing! Although I had snorkelled before I don't think I had ever been in the water with this many fish! There were hundreds! It felt like they were swimming right at your face, however they never touched you! The tour guides were throwing bread into the water as well, which made the fish swim even faster! It was just crazy! We then stopped on Phi Phi Don Island for about an hour and half for a buffet lunch with some authentic Thai food, and a bit of free time to explore.
From Phi Phi Don we stopped at Pi Leh Cove, and we were allowed to jump off the top of the speedboat into the crystal clear water. This was probably my favourite part of the whole day! The cove is surrounded by the high limestone cliffs and the water is just so salty it feels like it's keeping you afloat. We jumped off the boat so many times, it was just a beautiful place and felt like a surreal experience!
Maya Bay was our next stop, which is where many images for Thailand tourism campaigns are taken. There were water tuk-tuks parked on the beach and a beautiful environment. Instead of just staying on Maya Beach with the many tourists who were on similar tours to us, we decided to follow a path across the island to Loh Samah Bay. I am so glad we did! It had such a different feel to Maya Bay, with hardly any people but more beautiful views. To get into the water we had to climb down a big rope ladder, that was surprisingly sturdy for being half submerged in water, but it was definitely an adventure!

————————————————————————————————-
Pin for later:

The final stop on the tour was Khai Nai Island, where we were able to snorkel a little more and just relax on the beautiful beach. The tour was definitely one of my favourite activities during my time in Thailand. It took us to so many beautiful places and was just s great day all round!