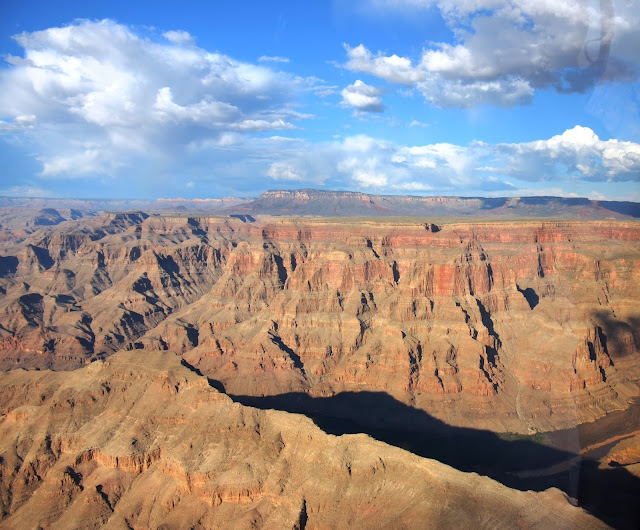 Flying Over The Grand Canyon
Las Vegas was my first time in a helicopter. I was so excited, not only was it my first time in a helicopter, but we were also going to fly over the Grand Canyon. There is endless beautiful scenery from a helicopter. The Grand Canyon stretches for miles and is nothing short of amazing. Next time I'm in USA I'm definitely renting a car and spending a few days in this beautiful area!
We were picked up from our hotel and driven out to Boulder City Airport where our flight would depart. Flying with Papillon was a breeze, they made the whole situation so easy and exciting. We had a great pilot, who knew a lot about the Grand Canyon and the surrounding areas as well as Las Vegas. He had some fantastic stories to share about his flying experiences. The only thing getting in my way on this adventure was that I was still unwell. And unfortunately, the extremely small cabin of the helicopter, paired with my middle seat, really exaggerated my claustrophobia and motion sickness. So I spent most of the flight concentrating on being okay, and not concentrating on taking photos which I really regret. Although there aren't nearly enough, here is just a snapshot of the views of The Grand Canyon from the sky.

If we had of had longer in Vegas, I definitely would have designated a few whole days to exploring the canyon. It was fantastic to see and experience from the sky, but I think to get the full effect it really would have been amazing to set foot on the canyon! If you have the time (and budget) I would recommend either choosing a helicopter flight that includes a landing option so you can explore from the group, or for the ultimate experience, a hike through the canyon. Absolutely on my list next time I'm around the Nevada/Arizona area!

We flew with Papillon. Prices for a helicopter tour of the Grand Canyon start from $289 per person.