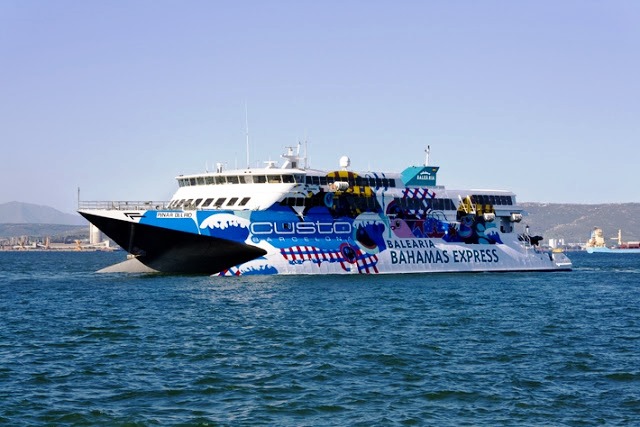 The Balearia Bahamas Express
When I found the Balearia Bahamas Express I felt like all my Christmas' had come at once. For only about $110 each we could day trip to the Bahamas from Fort Lauderdale, Florida? Yes please! Advertised as a two hour boat ride from Fort Lauderdale to Grand Bahama Island, I couldn't grab tickets fast enough! Unfortunately, in my excitement to visit the Bahamas I had neglected to factor in the travel time correctly. Due to the Bahamas technically being international from Miami, it required the same amount of 'processing' and customs time that it does to travel internationally by air. Which meant a lot of our time this particular day was spent on the boat and in customs, and not enough time was spent in the Bahamas – only about 6 hours actually.

Do not get me wrong, I loved Grand Bahama Island. The water was warm and crystal clear, the town was bright and colourful, with pink, blue and yellow buildings, and the infinity pools were amazing. I just didn't get to see enough of it, didn't have enough time to explore and had I known about the Balearia Express before I had planned our USA trip, I would have given us more time to actually spend a couple of days there. I only found out about the cruise a couple of months before we left, after flights had been booked, but I was still so eager to see the Bahamas, I thought we could give the day trip a go!


The Balearia Bahamas Express gives you a great alternative to the more expensive international flight options. I don't really recommend this option for a day trip, but if you're thinking of spending a couple of nights on Grand Bahama Island I think it's a great travel option. The boat ride itself was relatively pleasant, however very heavily air conditioned so you should bring a big jumper or jacket! There wasn't much to do on the boat either, so bring some magazines or an iPad with movies to keep you entertained. If you're only visiting the Bahamas for the day you're able to disembark the boat first and you don't have to go through customs which was a good time saver.
The only thing that really annoyed us was that someone tried to take fish or some kind of food produce from Grand Bahama Island back to the mainland of Florida. Instead of confiscating these items at the ferry terminal, or just putting this package into quarantine, US Customs officials were alerted, and every single passenger had to be searched. Which meant it took us an extra two and a half hours to get off the ferry after it had docked! I could not have been more frustrated. Thom was so sick, we were so cold, and we didn't even have luggage – only one small handbag!! It really felt like the whole situation could have been avoided by just not letting that box of food on the boat!
Prices for the Bahamas Express start from $36 one way. There's no way you can get a flight that cheap! Food and drinks are available for purchase on the boat, but options are limited so bring snacks if you're a healthy/picky eater like me.

Images taken from the Balearia Bahamas Express website and Google Images.