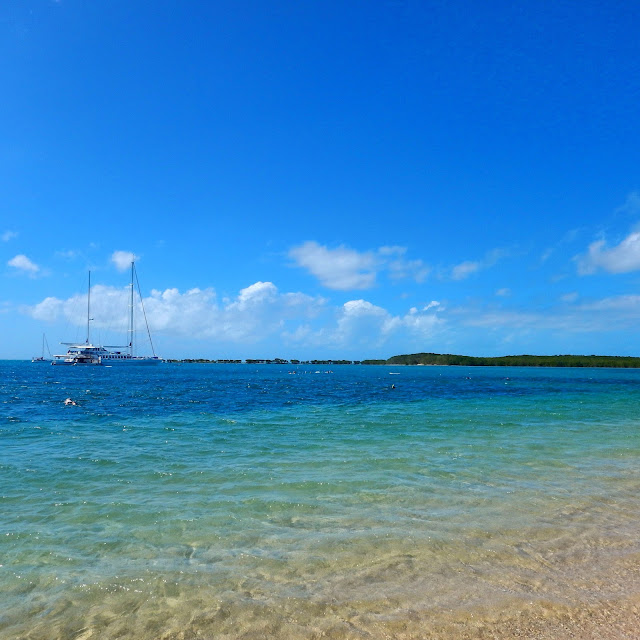 Low Isles & The Great Barrier Reef
After two trips to Hawaii and countless tours around Oahu looking for turtles, can you believe that I found one happily swimming off the shores of my own country. If you're on a crazy turtle mission like I have been I will say this – the Great Barrier Reef is the place to be.
While we were in Port Douglas we hopped on a cruise to the Low Isles. We were both keen to go snorkelling in the reef, having both visited when we were younger with our families but not for many years. We booked a sailing cruise with Sailaway which would take us snorkelling on the reef just off Low Isles. Despite cloud in both the morning and afternoon, not that surprising considering it was June and winter in Australia, we were lucky enough that for the few hours we were actually in the water and on Low Isles the sun decided to come out and give us some really beautiful weather. It was perfect timing as well! Exactly when we needed it!
We sailed for about an hour and a half from the Port Douglas Marina to just off Low Isles, where we docked and caught a glass-bottom boat right to the shore. Our beautiful tour guide for the day, Jane, then took us for a guided snorkelling tour, showing us different corals and habitats, as well as telling us so much about the reefs ecosystem and way of life.
The Great Barrier Reef is so beautiful and colourful, and unlike any other reef system in the world. You can completely understand why it is such a highly regarded tourist attraction for travellers to Australia, as well as a World Heritage Site. The Reef is made up of 2,900 individual reefs and 900 islands stretching for over 2,300 kilometres over an area of approximately 344,400 square kilometres. The Great Barrier Reef can be seen from outer space, and is the world's biggest single structure made by living organisms. Can you believe that?! They are some impressive statistics to say the least!
When we came across the beautiful little turtle swimming happily around the reef I felt like all my Christmases had come at once! It was an experience I had been hoping to have for so long, and it was truly a memorable and exciting moment. We had a great amount of time to snorkel and explore Low Isles, before we hopped back onto the boat for a lovely lunch before we headed back to the marina.
Prices for this tour start from $225 per person and include morning and afternoon tea, a buffet lunch, use of snorkel equipment, a guided snorkel tour with a marine biologist, glass-bottom boat tour and hotel pick up and drop off. We booked through Viator, you can view full details of the tour here. Please note there is also a $6 reef tax per person, payable on the day of your tour.

I have said this in previous posts about Hawaii, but I feel the need to say it again – please, if you come across a sea turtle swimming in the wild DO NOT TOUCH IT. It is not your place to try and touch and annoy it, and this can be scary, harmful and distressing to the turtle. It makes me so angry to see tourist go straight to touch it! For the most beautiful experience for both of you, just swim alongside it and enjoy it's presence!