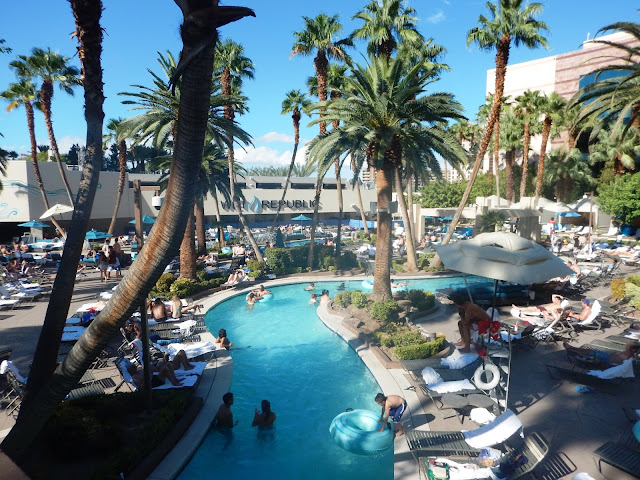 MGM Grand Las Vegas Review
The only way to describe the MGM Grand is exceptional. Boasting a massive 5,044 guest rooms the MGM Grand is the largest hotel resort complex in the United States, and the second largest hotel in the world. WOW. No wonder it took us 10 minutes to walk from our hotel room to the street every morning! I mean, the MGM Grand is 30 floors high and includes five outdoor pools, rivers and waterfalls that cover 6.6 acres. WHAT? That is just crazy.
We loved our stay at the MGM Grand. It was a fantastic hotel, with so many dining and entertainment options right there in the resort. The hotel rooms were magnificent, so big and spacious, and we had a great view of the New York, New York Hotel and the Big Apple rollercoaster as well! My favourite part though was the Wet Republic Pool area. With tall palm trees, waterfalls and a lazy floating river it was the perfect setting to recuperate from the bug we picked up in Florida. The dry desert heat of Nevada also helped quite a bit for that!
The thing you just don't notice about these Vegas hotels from the outside is the immense size of them. They are enormous. We probably didn't even see half of the hotel during our stay! It's not hard to get completely lost in them. The MGM Grand is located at the end of the strip, handily right next to the Las Vegas M&M store!
If you're a trivia lover, this might interest you. When the MGM Grand opened in 1993 it had an extensive Wizard of Oz theme, including the green 'Emerald City' colour of the building. When you entered the main entrance you would find yourself in the Oz Casino, facing Emerald City and surrounded by Dorothy, the Scarecrow, the Tin Man and the Cowardly Lion and an elaborate yellow brick road. However when the casino had a complete refurbishment in 1996 the Oz theme was the first to go.
I would definitely stay at the MGM Grand again, there was never a dull moment at this truly impressive resort. Permanent shows at the MGM Grand include Ká by Cirque du Soleil and the Brad Garrett Comedy Club; and signature attractions include Hakkasan, David Copperfield and CSI: The Experience. For current rates, attractions and information check out their website here.

MGM Grand Hotel & Casino 3799 Las Vegas Boulevard South Las Vegas Strip, Nevada, 89109