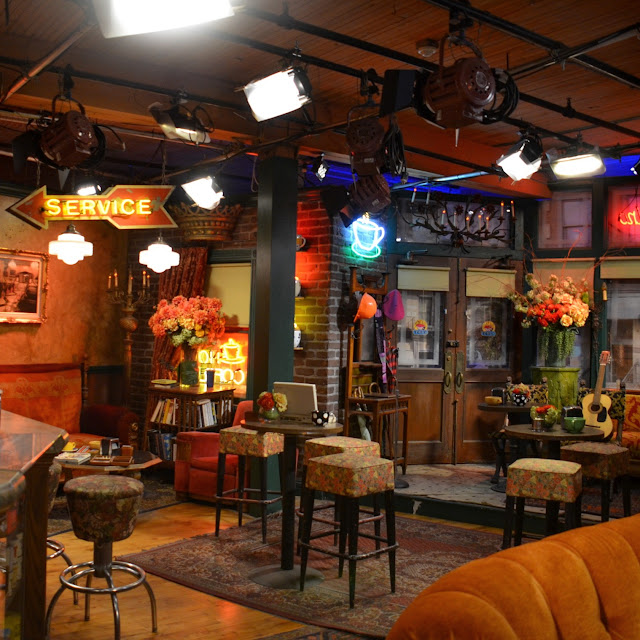 The VIP Tour Of Warner Bros. Studios
One of the reasons I was the most excited to visit LA was to take a tour of Warner Bros. Studios. Home to many of my favourite TV shows, as well as countless hit movies, I couldn't wait to see where the magic happened! We took a VIP Tour of the studios which included: a walk through two different TV show soundstages (we got to walk through The Mentalist and Conan), driving through the backlots and exterior sets, a tour of the WB prop department, access to The Archive – which includes two floors of memorabilia including authentic props and costumes from the Batman and Harry Potter films, a tour of the Picture Car Vault – currently transformed in the Batcave, you can see all the incredible Batmobiles, and finally a visit to the infamous Friends set of Central Perk.
Warner Bros. currently has 10 backlots and 30 soundstages and has made some of the most iconic performances in history come to life. It is currently the home to TV shows such as Ellen, The Big Bang Theory, 2 Broke Girls, and Pretty Little Liars. As well as this, The Prop Department is home to more than 450,000 registered artifacts, used in countless TV shows and movies – not just ones produced by Warner Bros. We even saw props that were being held for a future filming of Modern Family. Anyone can borrow props from the Warner Bros. Props Department.
Tickets for the Warner Bros Studio Tour start from $54 per person. You can see more about the tour and book your tickets here.
Warner Bros. Studios 3400 W. Riverside Drive Burbank, CA 91505
During our visit the outside sets at Warner Bros were set up to film the CW's TV show Hart of Dixie. I was very excited because I love Hart of Dixie and it was so cool to see the town of Bluebell where so many of the scenes are based. We didn't get to see any of the scenes being filmed, they were still working on setting up the set when we drove through, but it was still so awesome to be driving through a show that we recognized and watched!
The Harry Potter Exhibit which is currently open at the Warner Bros. Studios includes countless costumes and props that were used in the actual Harry Potter movies! You can see the Sorting Hat, Quidditch uniforms, outfits worn by Proffessor Snape and Professor McGonagall as well as Harry, Ron and Hermione. It was a fantastic exhibit and incredibly exciting to see so many of the authentic pieces of the movies.
A visit to Central Perk from the Friends set was really a perfect way to finish the tour. The set was moved from it's original soundstage to the back of the Props Department when Friends finished filming, so that it could be saved and visited by fans of the show. It is so crazy to be walking into the actual Central Perk. It is perfect and looks exactly like you expect it to from watching the show. There are so many intricate details around the cafe set and it was so good to see it in real life.
Many of the shows filmed at Warner Bros. Studios include a live audience, and if you plan in advance you can grab tickets to go and see them filmed live! We wre lucky enough to score tickets to a taping of 2 Broke Girls while we were in LA! We really wanted to see The Big Bang Theory (we're completely obsessed with it!) but unfortunately they weren't filming while we were there. The filming of 2 Broke Girls was such a good experience though! It was so interesting to watch the episode literally come to life in front of our eyes! You can grab tickets to many different shows for free from the TV Tickets website. Make sure to get in quickly though, because they sell out very quickly! Tickets come out 30 days before the taping of the show, and the website is updated at 8:30am Monday-Friday LA time. I recommend you visit the website to see what shows are going to be filming during your stay, then make sure you're online as soon as they come out to avoid disappointment!