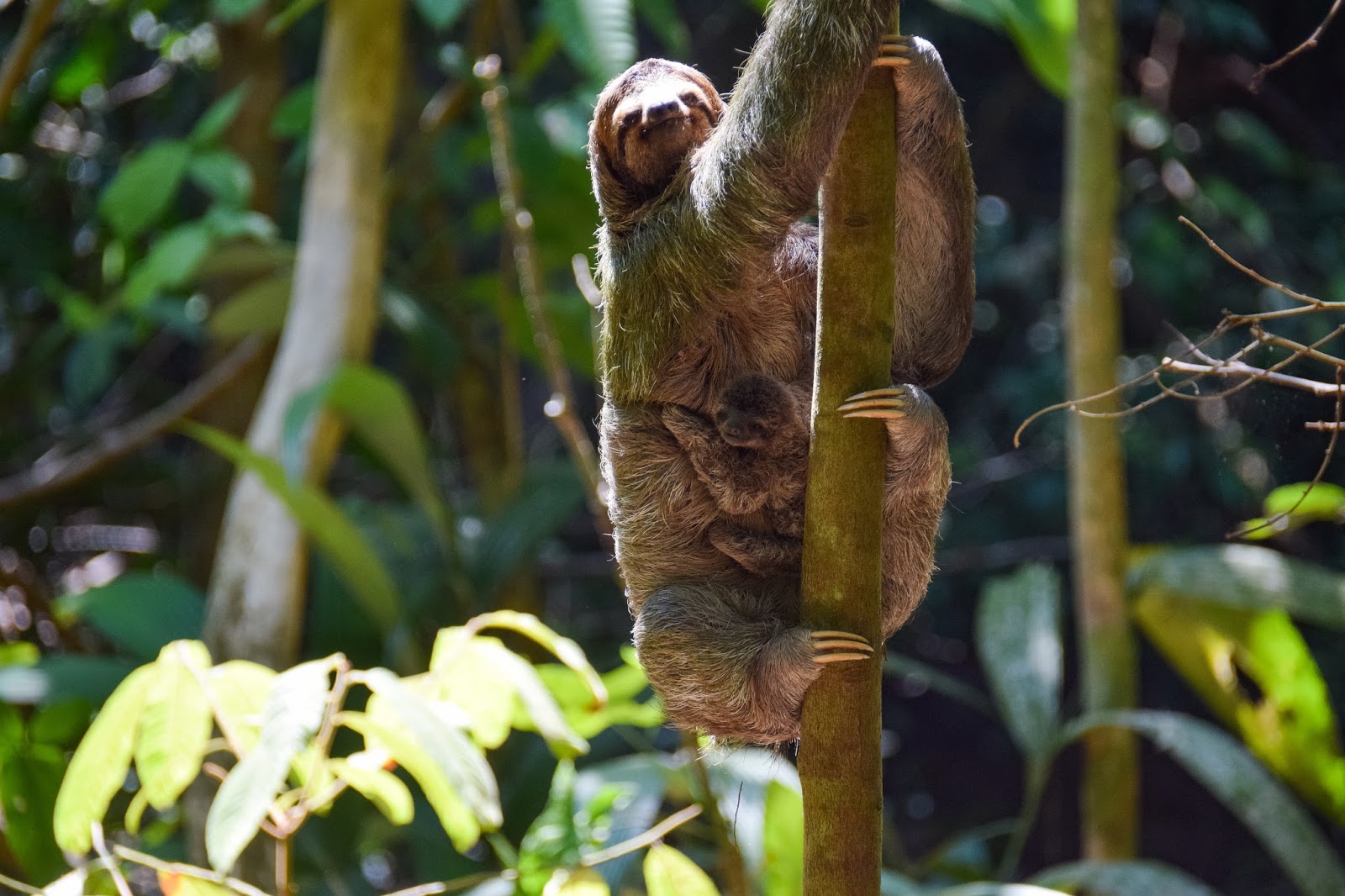 Sloth Hunting In Manuel Antonio

The day was finally here. Our last full day in Costa Rica was the day we had organized to visit Manuel Antonio National Park. And the main reason I was jumping out of my skin with excitement? SLOTHS!! As someone who lives in Australia, sloths are an elusive tropical animal that we can not see in real life unless we travel to Central or South America, so I was beyond excited to be visiting the home of the biggest colony of sloths in Costa Rica.


The town of Manuel Antonio had already been so much more than we expected. It was beautiful, with clear blue skies and surreal flora and fauna everywhere. I've already posted about our phenomenal accommodation Hotel Makanda, seriously the most relaxing honeymoon resort we could have imagined, but the rest of Manuel Antonio was just as picturesque.


We set out early to get to the National Park, hiring a taxi to drive us from the hotel to the park. It was only about a 10ish minute drive and about $10USD fare, but due to the high humidity and hilly streets I would recommend grabbing a taxi over walking any day. When you arrive you can buy tickets to the park at the Coopealianza. Warning: The line was extremely long and there is no shade so make sure you bring a hat and cash for some water. There are no ATMs at the National Park, but you can get cash out at the Coopealianza. There are extra fees associated with the transaction, both a commission fee to the teller plus an international transaction fee but you can get out either US Dollars or Costa Rican Colon. This came in so helpful for two idiot tourists like us who forgot to stop at an ATM before we arrived! Admission into Manuel Antonio National Park is $16USD, and free for children under 12 years old.


We had heard that the best chance of finding a sloth was with the help of a guide. Since we were looking for one we were silly enough to go with the first person who offered us an English tour without questioning anything. The tour cost $20USD per person, which would have been fine, except that they did not tell us there would be other people on the tour and we got stuck with some very annoying ignorant families with a lot of screaming children who wanted to find a crocodile (what?!). Not my cup of tea. Our guide was great though, very interesting and so knowledgeable about the park and all of it's inhabitants. The best part about hiring the guide though was that they can spot animals that are so high up and far away that we definitely would have missed on our own. The worst part? He did stop a lot to show us birds and insects that I could not have cared about one single bit. I would definitely recommend trying to find a private guide for a more one on one experience and to focus on what you want to see!

Our guide did, however help us spot these cheeky black monkeys resting after a morning of getting up to mischief and this sloth lazing on a branch that was right over the main path! This was the first sloth we found that we could see with our own eyes, not one of their telescopic lenses so I was pretty excited. Look how relaxed he looks up there!

Playa Manuel Antonio is like a beautiful bright light at the end of a dark tunnel. After being surrounded by tall dark trees in the jungle of the park, it feels like this breathtaking beach appears out of no where. We were drenched in sweat from the ridiculously high humidity, so we were beyond excited to see the crystal clear ocean and ran right in. Playa Manuel Antonio is one of the most stunning beaches in Costa Rica, and one of the few with white sand beaches. It's the perfect place to cool down and unwind after a hike through the jungle.

After spending a while at Playa Manuel Antonio we started to make our way back to the front of the park and decided to take a walk down "The Sloth Trail". Before we started down the trail I think I even said to Thom that this couldn't seriously be where the sloths were hiding, on such an obviously named trail. But BOY OH BOY was I wrong. We hit the ultimate experience. Not just a close up encounter of a sloth, but an awake, moving sloth, CARRYING A BABY. There are now going to be about a million photos, because it was so exciting and also so so so cute.
Look at that beautiful curious baby face!!

We stayed in front of them for ages, just watching them be. From what I've read, sloths only come down from their high branches about once a week to go to the toilet, before retreating back to their comfy home. So to find one coming down for their one toilet trip a week was a pretty big deal! The fact that she had a baby, extraordinary!!! So many exclamation points but so deserved! It took so long. Probably about 45 minutes I think, from the time we found them in the jungle to the time they got to the bottom of the bamboo stalk. It was definitely one of my most exciting and memorable wildlife experiences. I'm not 100% sure why, because I have seen elephants and lions in the wild (safari in South Africa is still definitely my favourite experience of all time), but I think maybe it's because sloths are such an exotic animal to us – you can't find them in the zoos in Australia!

Visiting Manuel Antonio was definitely my favourite day and experience in Costa Rica. To get the most out of your trip remember:
The humidity is crazy and that sun it HOT – bring sunscreen and a hat to keep yourself protected.
Bring a towel and a change of clothes for after you take a dip in the beach. Struggling back into sweaty clothes after a dip in the ocean is never fun.
Make sure you take cash out before you arrive.
Bring a camera with a BIG zoom lens – just in case the only sloths you find are hiding high up in the trees.
One last sleepy sloth we found on our way out of the trail – really goes to show how well they can camouflage themselves. Makes me wonder how many we might have missed?!
Manuel Antonio National Park is open from 7am to 4pm, but closed on Mondays.
————————————————————————————————-