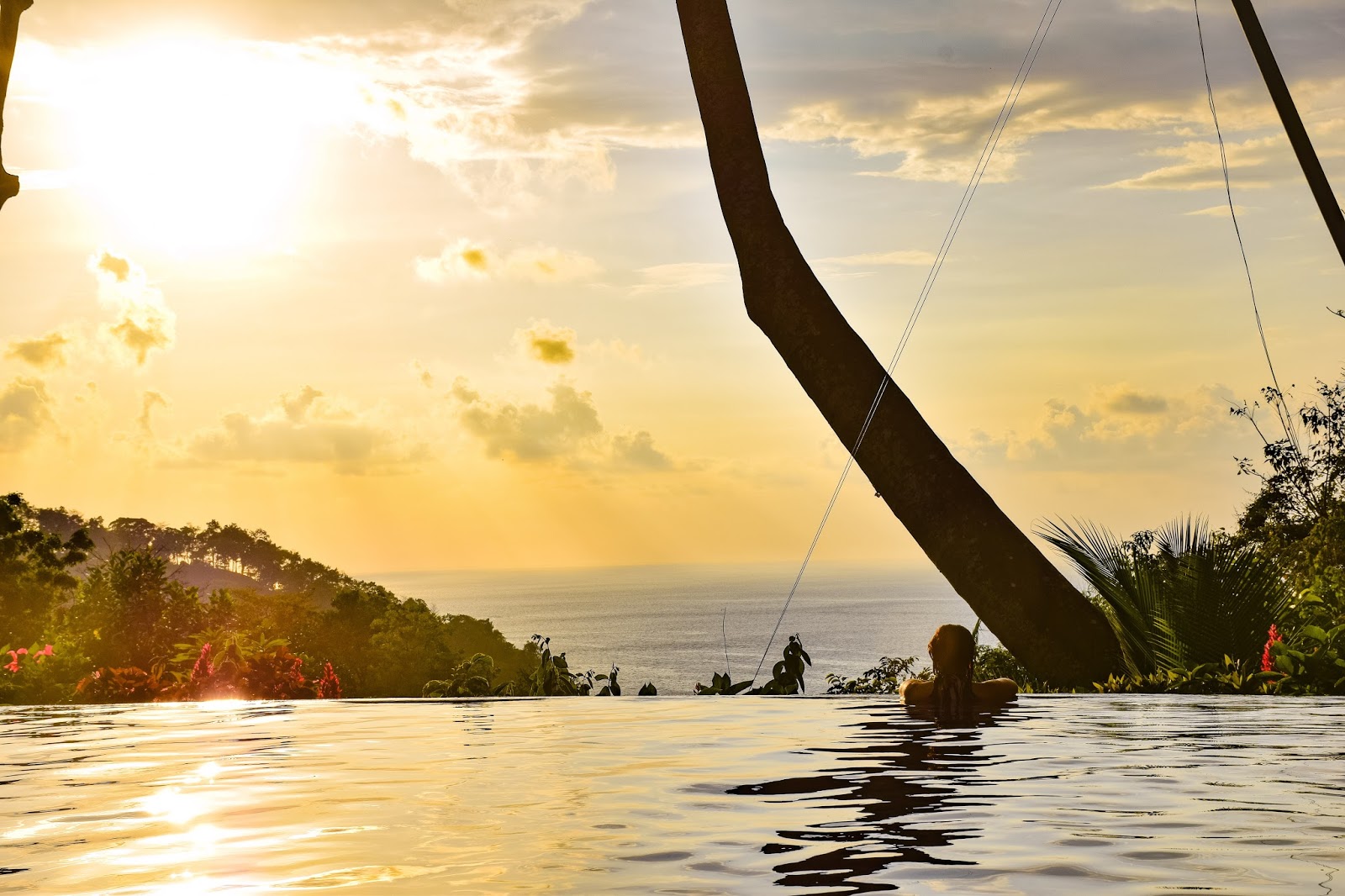 Where You'd Rather Be: Makanda By The Sea

After a few days of high adventure in La Fortuna and kicking back in our jungle treehouse it was onto our next destination, Manuel Antonio, just south of Quepos on the Pacific Coast. We were ready for some beaches, relaxing and focusing on our main goal: spotting a mysterious sloth in the wild. The accommodation I had booked in Manuel Antonio was what I was looking forward to most. Hotel Makanda by the Sea, an adults only retreat, hidden in the rainforest and boasting an infinity pool that overlooked the Pacific Ocean.

Let's go back a few steps though… to get to Quepos we had booked a small domestic flight from La Fortuna Airport (FON) to Quepos La Managua Airport (XQP). By air the trip was only going to take about 25 minutes, rather than travelling by car or transfer which Google Maps estimated would take 6+ hours. A bit of a no brainer really. The very gracious owner of Heliconias Nature Lodge offered to give us a ride down to the airport in La Fortuna and as we pulled up I could have sworn he was joking. The airport was literally a large shed, missing a front wall and offering a tiny bar in it's centre.
We checked in for our flight with a guy who seemed to be the only guy working in the whole airport – I swear, he later ran out to the runway to be the air traffic controller. The whole process of the plane landing from it's previous flight, boarding and departing probably took less than 5 minutes and then we were off! Without a doubt it was definitely the most turbulent flight I have ever experienced, exacerbated by the torrential rain that was waiting for us in Quepos. The lady in front of us threw up the whole way while her husband filmed her with a thumbs up! Haha

Landing in Quepos, we quickly realized our mistake at not booking a taxi in advance or organizing with the hotel to pick us up. Due to how incredibly tiny and slightly removed the airport is, transportation is not waiting for landing passengers. The helpful airport attendant (feels wrong to call it customs) was able to arrange a taxi shuttle to come and take us to Makanda.
It might sound corny, but the magic started from the minute we pulled up into the driveway of Makanda. We were greeted by the lovely gate keeper, picked up by a golf cart and taken to the reception area where we had a seamless check in before being swiftly escorted to our room. The grounds of Makanda were so beautiful and everything was so private. We couldn't see any other rooms or people around and it was like we had the place all to ourselves!
We were checked into Studio 3 – a great location, close to the pool and restaurant as well as the reception area. As well as several studios, Makanda have some of the most gorgeous and tranquil rooms I have ever seen including villas, jacuzzi suites, deluxe studios, and even luxury villas with their own private infinity pool. If only we had a money tree!

Checking into Makanda By The Sea was nothing short of amazing. It was definitely the most perfect honeymoon destination we could have chosen with beautiful luxurious rooms and an infinity pool to die for. Our stay at Makanda was the first time I truly felt like I could relax, unwind and completely revitalize! We spent more time at the pool area than I ever have before, swimming, kicking back and watching the sun set over the hills. It always felt like we had the whole place to ourselves, with no more than about 6 other people sharing the whole space. The hanging sunbeds were definitely a favourite for me, as well as the wonderful waiter who brought us cocktails right to the pools edge. The pool was the perfect temperature, so you can swim around for hours without getting cold, and when you are done with that you can just chill out in the jacuzzi.

On our first night at Makanda our relaxing got a little out of control. We hit Happy Hour and the 2 for 1 cocktail offer hard due to the delicious margaritas. After Happy Hour we decided to have dinner at the hotel's restaurant The Sunspot Bar & Grill. OMG the food was to die for. We literally tried about 8 different dishes on the menu – including desert, which we never normally order! My only tip would be watch out for their Special Margarita. After Happy Hour they told us that they had run out of tequila for their regular margarita but they did have tequila for their special margarita. Although they were delicious they were twice as much as the regular version and without the help of Happy Hour we racked up QUITE a bill that night. But no regrets (well, maybe a little), we had the best night ever and jumped straight back into the pool after dinner!
The one other heads up I will give you is that there are monkeys running and squealing all over the property! They love to steal your belongings from by the pool or even sneak into your room when you're out and run amok. Make sure you always keep you always keep your room doors locked and your items secure to avoid them being taken into the trees by these naughty residents.
I really can't recommend Makanda By The Sea highly enough. It was one of my top hotel stays from around the world and I would check back in there in a second. If you're looking for a romantic getaway in Manuel Antonio make sure you check it out. I found the best prices for my stay directly on their website, by always check out Hotels Combined to make sure you're getting the best deal.

Makanda by the Sea, Adults Only Resort Plaza Vista Commercial Centre, Manuel Antonio, Provincia de Puntarenas To find out absolutely everything you need to know about Makanda, make sure you check out their website here.


————————————————————————————————-
Pin it: