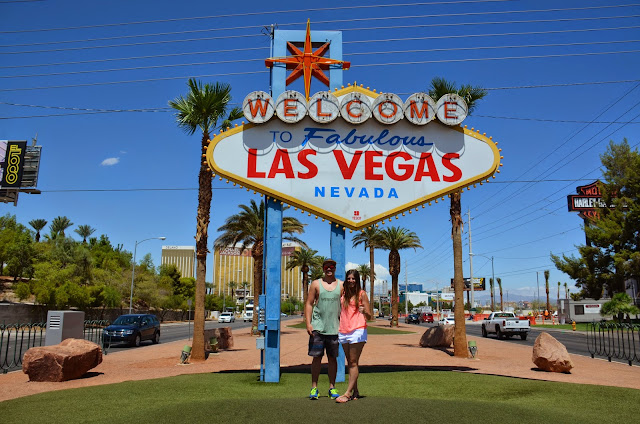 Ideas For Day Activities In Las Vegas
There is always so much going on in Vegas. While the Strip may look nice and peaceful, there are countless shows, parties and exhibits happening deep in those hotels! I really liked walking around Vegas because it let us stumble upon things we wouldn't have found otherwise. We came across a silent disco in a side alley, an amazing Japanese restaurant in the Venetian Hotel called Sushi Samba,and more showgirls than I could count. Las Vegas isn't just about the nightlife (although that is the main idea). Here are some ideas of day activities around the Strip.
Visit the Las Vegas sign
Stating the obvious, I know, but can you really go to Las Vegas and not visit the iconic sign? My only piece of advice is don't try and walk to it in 40 degree heat. We thought we would walk from Mandalay Bay, it didn't look that far and we don't mind a walk. I mean you can see the gold Mandalay Bay hotel right there behind the sign. Oh. My. Gosh. It was so far away. We could see it the whole time, which was so deceiving and kept making us think we were close. But we were so far away. Get the bus as close as you can to the sign, or better yet, get a taxi to just drop you off right there. That would have been a much better idea!
South Las Vegas Boulevard
Visit the
World Famous Gold & Silver Pawn Shop
Famous for it's TV show 'Pawn Stars', the Gold & Silver Pawn Shop is the most famous pawn shop in Vegas and has helped put pawn shops back on the map. Easily accessible via the Deuce bus, take a trip down to check out the store and see if you can spot the Old Man, Rick, Big Hoss and Chumlee appraising valuables! The store is still a functioning Pawn Shop, you can still buy and sell items here and you can often spot items from recent episodes that haven't been sold yet. The focus is definitely jewellery but there's also a lot of art and other random items around. Very entertaining if you're a fan of the show!
Gold & Silver Pawn Shop 713 South Las Vegas Boulevard
Experience as many hotels as you can
With every hotel offering a very elaborate theme, you can be in Italy one minute and New York the next. And you should be! There are so many different places to visit along the strip, from the canals of Venice at the Venetian to the Eiffel Tower at the Paris hotel. Try and visit as many of the hotels as you can, because there's honestly so much to explore, just in the hotel corridors!
Buy a cupcakes from the Sprinkles ATM
I hear your confusion, a cupcake ATM? Yes, a cupcake ATM! The wonderfully convenient and extremely entertaining idea from Sprinkles, spreading smiles and cupcakes all over Las Vegas! For Sprinkles addicts on the go, the cupcake ATM is continuously restocked day and night with a variety of freshly baked flavours. The wait line is significantly shorter than getting into the actual store, and you have the added excitement of buying a cupcake from an ATM. I mean, I just can't say that enough. Sprinkles cupcakes are delicious and world famous, so it's really a win win.

Sprinkles Cupcakes Paradise Garden Buffet 3545 South Las Vegas Boulevard

Catch the Las Vegas Deuce on the Strip
The Deuce is by far the most convenient mode of transport on the Las Vegas Strip. Running up and down the Strip 24 hours a day the Deuce stops at almost every hotel along the Strip and comes every 5-10 minutes or so, making it so easy to see the whole Strip! The double decker bus is much more accessible than taxis, which can't pick up and drop off passengers as easily on the strip, and you're never far from a stop. A highly affordable option for transport around the Strip, and very convenient to between hotels as well as to both the North and South outlets.
Visit Freemont Street
The Freemont Street Experience is a five-block entertainment district in historic downtown Las Vegas. The centrepiece is the world's largest video screen, Viva Vision, with is 1,500 feet long an 90 feet wide, suspended 90 feet above the pedestrian mall below. Freemont Street is part of the old Las Vegas and includes the city's most iconic casinos, countless restaurants, shops and retail kiosks and has more than 17 million visitors a year! Try and get down there if you have the time to experience the most iconic of neon signs. Image found here.

Freemont Street Experience 425 Freemont Street, Las Vegas