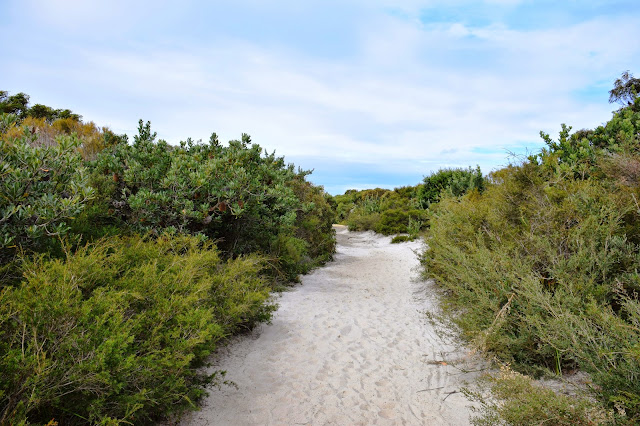 The Sydney Series: Royal National Park
I'm going to be very honest, we were extremely unprepared for the Coastal Walk at Royal National Park. After seeing the infamous Wedding Cake Rock on Instagram, my sister and I decided we wanted to see it for ourselves. So without doing enough research, we literally typed "Wedding Cake Rock" into Google Maps and blindly followed it's instructions. It was so much further away and harder to get to than we expected, and for anyone planning on heading down to Wedding Cake Rock, I would definitely recommend doing some research! But for now, I am going to try and give you as much detail as I can about experiencing the Royal National Park Coastal Walk, which in all honesty, is definitely one of the most beautiful walks I have ever experienced and I am so lucky we accidentally stumbled across it.
If you do what we did and type Wedding Cake Rock into Google Maps it will lead you through Royal National Park and take you to a tiny car park in the very small New South Wales town of Bundeena. It would have been so easy for us to turn around, since there was literally nothing there, but we had been driving for a little over an hour so we were determined to get there! Luckily, there was a park map right next to the car park that had a map of the park and the coastal walk, with the Wedding Cake Rock clearly outlined on it. We were so happy we had made it, we just started walking. In hindsight we should have paid more attention to that map. The complete coastal walk in Royal National Park is approximately 26km long and is expected to take two whole days! The only thing we had paid attention to was that the rock was about the third stop of around 20, so we didn't think it would take that long to get there. It actually took us about an hour and a half to get from the start to of the walk to Wedding Cake Rock.
The entire walk was absolutely breathtaking and offered endless beautiful views. I really was so happy that we stumbled across it, seeing the jagged cliff line along the edge of Australia was just beautiful. Whilst it felt like a great achievement to finally get to Wedding Cake Rock, the whole walk was incredibly stunning and so enjoyable. Even navigating the walk in thongs and jeans couldn't stop us from having a really wonderful day. Sometimes the things you don't expect can really be the most amazing experience.
If you're planning to try the Royal National Park Coastal Walk it's important to keep these points in mind: – Wear comfortable walking shoes and clothes. The paths vary in structure, and some can be quite small and narrow. Also, depending on the time of year you visit, there may be puddles around and surfaces can be slippery. Thongs were not the ideal footwear for this walk, and I would definitely wear proper walking shoes next time. – It's a good idea to take a map, water and sunscreen to get you through the day. If you're visiting in winter a rain poncho might also be a good idea, as weather can change quickly in Australia. – If you're planning on doing the whole walk and want to camp overnight, you need to get a push camping permit from the park office in advance. – Just keep following the arrows. The further you get into the park the fewer people there will be and it's easy to think you've made a mistake. There are posts indicating direction all along the walk, and you will usually be in sight of one at all times. Just follow the arrows and they will honestly get you there, even when you feel like they must be lying.
What's your favourite Coastal Walk in Australia? Share in the comments below.