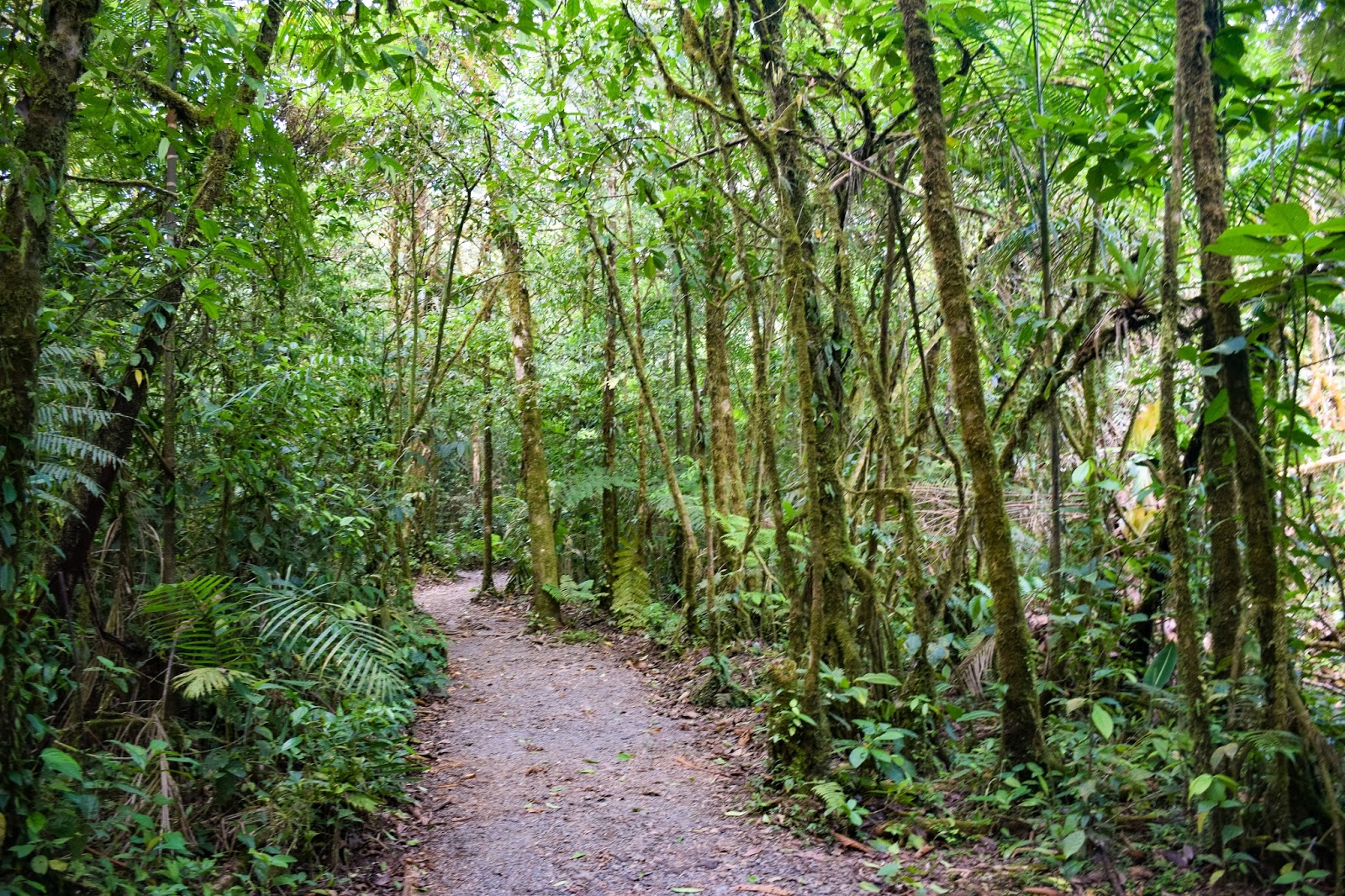 Finding Río Celeste

From the minute I started planning our trip to Costa Rica I wanted to find a way to include a trip out to Río Celeste Waterfall. A tiny pool of sparkling, astonishingly blue water found deep in the luscious green jungle. What could be more magical?! The more I began to research Costa Rica, the more I realized that I wasn't going to be able to visit everywhere I wanted to in the short 5 days we had in this beautiful country. Despite it's relatively small size, the landscape of Costa Rica – with it's mountainous jungles and winding roads – meant that driving between towns often takes a lot longer than you would expect. But I was still determined to get to Río Celeste, even though it was located almost two and a half hours away from where we were staying in La Fortuna. Luckily, Eco Terra Costa Rica came to our aid and did what no other company were willing to do. They planned the perfect, absolutely enormous day for us, fitting in everything we wanted to visit.

During the planning process it felt like I hit a brick wall in Costa Rica every way we turned. I contacted several local travel companies, looking for a private car and tour guide to take us to Río Celeste Waterfall, La Fortuna Waterfall and the Arenal Hanging Bridges all in one day. Due to the travel times I knew it would be a massive day (our pick up time ended up being 5am!), but since we were visiting such an exotic country, so far across the world from home, I really wanted to make sure to fit in everything I could. Eco Terra offered day tours to all of these places, as well as private cars and drivers, so I thought I would get in contact with them to see if they could work anything out. THEY COULD! Finally, a company who weren't afraid of an early start time and who were keen to fit in all of our crazy ideas. They put together a great itinerary for us, trying to reduce time spent in the car and increase our time exploring each attraction.
So, when the world was still dark and the sun was still sleeping, we were picked up in our private vehicle by our tour guide for the day, Julio Mendez at about 5am. We packed our stuff into the car and got comfy for our first drive of the day, out to the infamous Río Celeste Waterfall in the rainforest of the Tenorio Volcano National Park. Along the way our tour guide told us a bit about Costa Rica, the country he had called home for his whole life, and about his experiences as a tour guide for Eco Terra. It sounded like he had been on some epic adventures! He also stopped the car whenever he spotted unique wildlife and showed us how to take photos through his telescopic lens, to see the animals on the highest branches of the rainforest that we definitely would have missed otherwise. He spotted this toucan a mile away, perched on the tallest branch in the rainforest. It was the only toucan we saw on our whole trip so it was very exciting!!!!
About Rio Celeste
The Río Celeste water turns to it's famous blue colour at the point where two clear-water streams merge at a point called El Teñidor, which translates to "the dryer". Local scientists have come up with several theories as to where the Río Celeste gets its colour. The most recent findings show that the rocks at the bottom of the river have a mineral coating that includes silicon, oxygen and aluminum. The size of these minerals, as well as the reflection of the sunlight, is what gives the water our incredible hue. As we arrived at the national park our tour guide told us that despite popular belief, the river is not this bright shade of blue all year round, and he had often seen the famous waterfall looking quite grey and murky after big rainfall. Unfortunately, there is no way to tell this until you get there and we were just so lucky that the waters were bright blue when we arrived, living up to every picture of the falls we had in our heads.

When you arrive at the National Park there are two different hiking options. The first is the complete 7.5km moderately challenging hike, that not only takes you to the waterfall, but also up into the rainforest and to the point where the waters meet and become blue. The second is a much shorter, 1.5km hike that takes you directly to the waterfall. Due to how hectic our day was, we had organized to do the short hike, straight to the cascades. If you do take the longer trail, you will find thermal hot springs and a blue lagoon along the trail, however it is extremely important to stay on the paths laid out in the national park, as to not disrupt the parks ecosystem. As well as this trail being significantly longer, it is also increasingly difficult. Although we did not do it ourselves, throughout my research everything I read said to wear appropriate footwear for muddy and slippery conditions.

The shorter walk takes you directly to the cascades. The walk is pretty easy with some slight inclines, ending in 250 steep steps down to the waterfall. At the bottom of the steps you will find a small viewing platform where you can marvel at the blue water and fill your camera with selfies and photos! We were lucky enough to have this platform all to ourselves, however it can become extremely crowded the later into the day you go. I would suggest visiting as early as you can to avoid the crowds.
The next leg of our journey took us from Río Celeste to the La Fortuna Waterfall. This drive took us about 45 minutes, south back towards La Fortuna. As the sun had now risen we were able to see so much of the Costa Rican countryside, and even drove slowly through a herd of cattle being moved by their farmer!
La Fortuna Waterfall
Our second stop was the infamous La Fortuna Waterfall. This is where all of those epic photos are taken of a super tall waterfall amongst the rainforest. The view is much more incredible in person! La Fortuna is one of the most visited waterfalls in the whole country, with the cascades falling an epic 75 meters into yet another crystal clear pool of water. Honestly, the water in Costa Rica just kept getting better and better! Found at the base of Cerro Chato volcano, the scenery driving into the waterfall is stunning, with mountains and volcanos to be seen every which way.
The La Fortuna Waterfall is a bit easier to get to than Río Celeste, although you do have to tackle a steep 500 staircase to access it. It is also much more developed than Río Celeste, offering bathrooms and showers, a cafe and a gift shop next to the parking lot. Keep your eyes up as you descend down the stairs, as the walk offers countless stunning views of the waterfall from all different angles. It costs just $14USD for adult visitors to get into the waterfall and the park is opened from 7:30am until 4pm.


The rocky shores surrounding the pool of water provide a perfect place to enjoy the sunshine and the powerful cascades falling over the mountain. The water is beautifully refreshing to swim in and one of the clearest waterfalls I have ever seen! If you're going to go swimming just remember how powerful the falling water is. Do not swim under the waterfall, as people have gotten caught under the water before.
We had such an epic day with Eco Terra that there is still part 2 of this blog post to come, with our afternoon spent exploring the Arenal area and hiking around the Arenal hanging bridges.
Thank you to Eco Terra Costa Rica and Julio Mendez for our epic adventure and showing us around Costa Rica. Check out their website: https://www.ecoterracostarica.com/ to find a full list of all their tours, as well as to contact them about putting your own perfect Costa Rican adventure together!