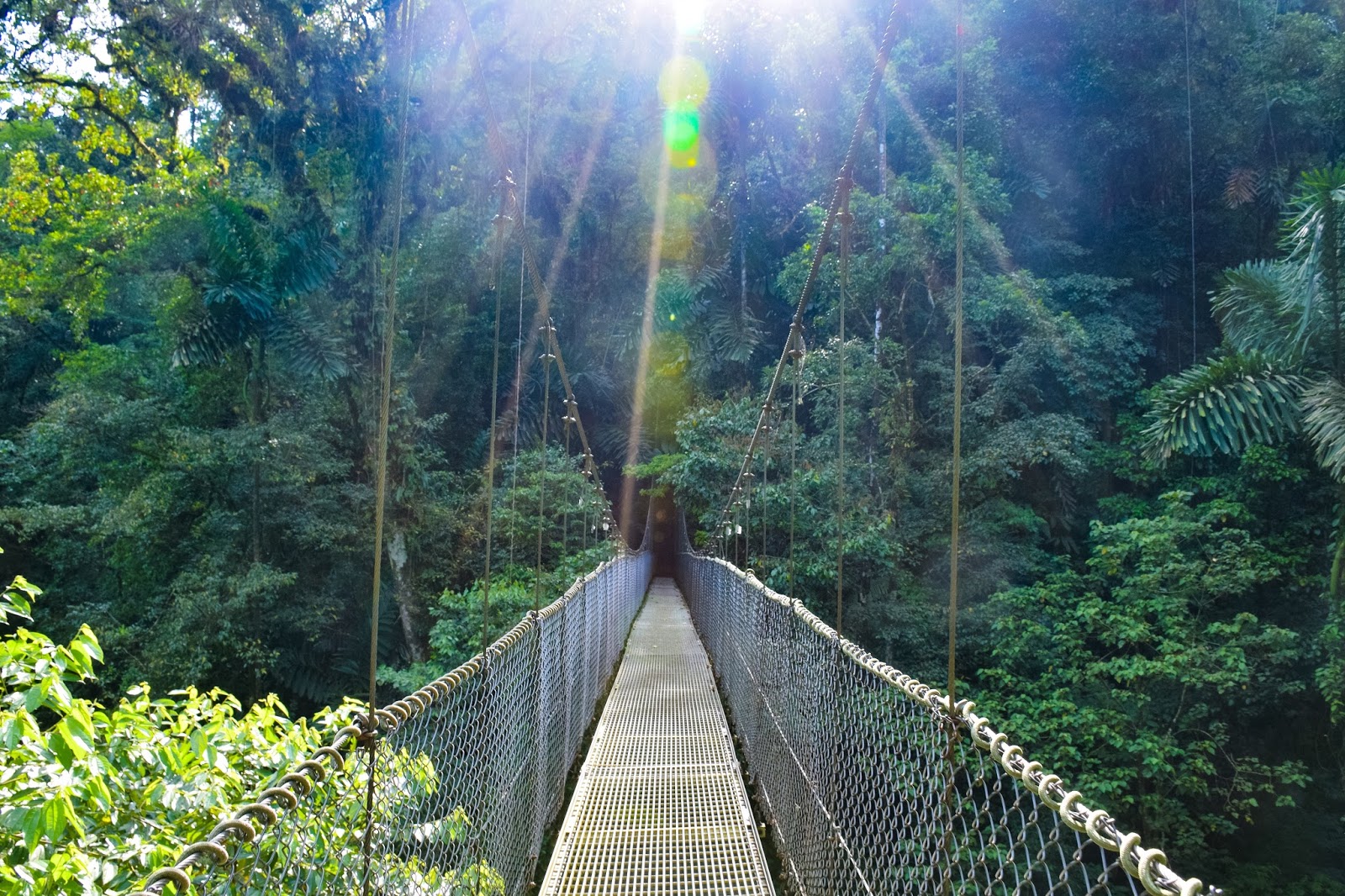 The Arenal Hanging Bridges

So our epic adventure in La Fortuna continues! Here's a quick recap… We were exploring the jungles around La Fortuna with Eco Terra Costa Rica, a local tour guide company who had planned out our whole trip! Our day had started with an early pick up at around 5am, and by lunch time we had already visited Rio Celeste and La Fortuna Waterfall (both outstanding)! You can check out part one of our adventure here. But on to part two! The second half of our day included a beautiful lunch overlooking at infamous volcano, before a hike through the forest and across the Arenal Hanging Bridges.

Lunch at Casa Luna
Mistico Arenal Hanging Bridges Park
Exploring the park with a guide is definitely the best way to do it. Not only are the equipped with interesting facts about the rainforest and it's inhabitants, but they also pick up on so many things that we probably would have otherwise missed. Julio showed us tiny birds nests, miniature snakes curled up and camouflaged into leaves, all the best places to spot monkeys, and even managed to lure a few tarantulas out of their holes – I have to admit, that was a little bit scary!! Those furry spiders are just MASSIVE and come out of some of the smallest holes, it's incredible. And a little bit worrying, don't touch or lean up against any of the poles or handrails in the park!
During our walk we crossed over all of the suspension bridges which was just crazy. I don't know if it was just me but I could not walk straight on those things! I would try my best, starting in the centre, but always ended up on the side of the bridge walking against the handrail.
Has anyone ever managed to cross those bridges without jumping everywhere??
By the end of our walk we were absolutely exhausted. I think we might have slept the whole way back to our accommodation. I totally understand why some companies were reluctant to fit all that into one day, but we had the most amazing experience with Eco Terra Costa Rica and ticked so many experiences off our Costa Rican bucket list! I would absolutely recommend contacting them to work out your travel arrangements in the La Fortuna and Arenal area!
Mistico Arenal Hanging Bridges Park Open from 7:30am – 4:30pm Monday – Sunday 2.5km East of the dam of Lake Arenal on the pave road La Fortuna de San Carlos, Alajuela, Costa Rica
Thank you to Eco Terra Costa Rica and Julio Mendez for our epic adventure and showing us around Costa Rica. Check out their website: https://www.ecoterracostarica.com/ to find a full list of all their tours, as well as to contact them about putting your own perfect Costa Rican adventure together!