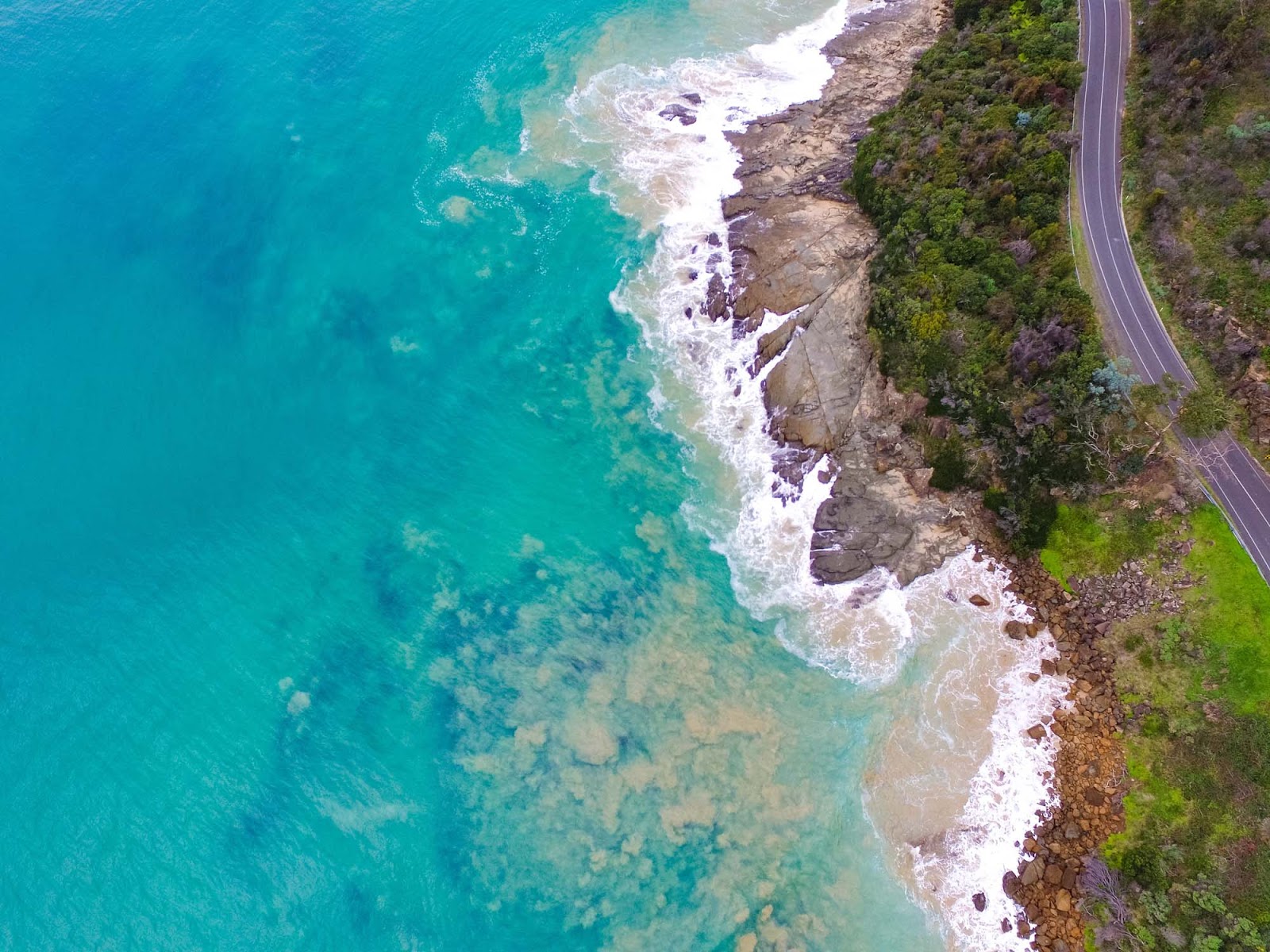 A Guide To Droning In Australia
Aerial photography might just be one of my new favourite hobbies. You get to see the world from a new perspective, experience views you might not have otherwise seen and take some epic photos! This weekend we area heading to Alice Springs and Uluru – Australia's great Red Centre. I am beyond excited, the Red Centre and the Northern Territory in general have long been at the top of my Australia bucket list, and I can't wait to experience it for myself. However, in my research about Uluru-Kata Tjuta National Park, I found out that there are a lot of rules surrounding photography and (unsurprisingly) droning in such a sacred area. So I thought I would put together a little bit of a guide to droning in Australia and everything you need to know to avoid any trouble.
Warning: Long post ahead but hopefully this will include EVERYTHING you need to know about flying your drone in Australia.

Flying a drone in Australia
What are the rules?

A new set of rules regarding drones came into play last year, which actually made it easier for people to fly their drones for recreational purposes. The big plus to these changes is that drones weighing less than 2kg don't even need to be licenced at all for recreational activities! For the purpose of this post, we are going to focus on the use of drones for recreational reasons. If you're looking to drone for commercial purposes (i.e., you're making any money from your images or videos), make sure you do a little more research into the rules and regulations.

There are two main rules when it comes to flying drones in Australia.
Australia Wide Rules: These are a set of nationwide rules set by the CASA (Civil Aviation Safety Authority) – the government organization who make the laws for the skies above Australia.
National Parks: Ruled individually by each state (and often just generally try to make life hard for everyone), the national parks authorities are responsible for the preservation and shared enjoyment of parks across their state. To make life more annoying, these rules are all different and change all the time. See below in this post for a list of the NP rules for each state.
The Base Rules
Your aircraft must be less than 2kg
Keep your aircraft in visual line-of-sight (not too far away or behind trees/buildings where you can't see it)
Only fly in daylight hours
Don't fly in clouds or foggy conditions
Not closer than 30 metres to vehicles, boats, people or buildings
Not over beaches, parks or sports pitches when there are helicopters in use
Not higher than 120 metres
Not within 5.5km of airfields, aerodromes and helipads

Australia's Landmarks

Generally, you are free to fly anywhere across Australia that is not considered a National Park, including the outback, river systems, ocean waters and all of Australia's coastal beaches. Australia is known for it's beautiful natural landmarks, spread all across the country. Here are some of the specific places you might be wondering about:
Where you CAN fly
Whitehaven Beach – safe to fly at the far southern or northern end of the beaches, but keep an eye out for helicopters and seaplanes coming in to land.
Fraser Island – stay at least 5.5km away from the landing strip on the island, as well as the same distance away from resort helipads. Keep an eye out for scenic flights if you're planning to fly over Maheno shipwreck or to be more precise you can chat to the ground crew and pilots from Fraser Air.
Great Barrier Reef & Mossman Gorge – allowed across the entire reef (excluding near airports, aerodromes and helipads), but worth checking with your tour operator first as different companies can have different rules.
The Daintree Rainforest – as long as you respect the wildlife, the locals and the beautiful trees, you're good to go.
Where you CAN'T fly
Hamilton Island – nowhere on the island is far enough away from the airport.
The Twelve Apostles – they are inside one of Victoria's National Marine Parks.
Sydney Harbour – anywhere around Sydney Harbour, over the Opera House or past the Sydney Harbour Bridge is off limits.
Bungle Bungles – as part of the Purnululu National Park you can only fly here by applying directly to the local Parks and Wildlife office.
Uluru (Ayers Rock) – there are signs everywhere warning you that the area is a culturally sensitive place for the Aboriginal people. To see some insane footage though of the world-first drone video, check out this video.
Some other general no fly zones include:
Within 5.5km of any airport, aerodrome or helipad.
Within 300 metres of wales or dolphins (extended to 500 metres in Queensland).
Over any emergency vehicles at the scene of an incident or bushfires.
Over city centres, as they generally have a no-fly zone enforced around them.
Image above from Reef Free offering a quick overview of where you can/can't drone in Australia
National Parks

National Parks often have their own set of rules. And to make things even more annoying, across Australia different states have different rules about flying in National Parks. The below information has been taken from the Parks website for each state.
Victoria: Drones are regarded as planes and to fly them in national parks you will need to fill out an operations plan and adhere to all rules. However, a great loophole in Victoria is that if you take off and land your drone from outside the park, don't disturb any wildlife and stick to all CASA regulations you can fly wherever you like!

New South Wales & ACT: Visitors wishing to use drones in parks must obtain consent from the park manager. NSW National Parks and Wildlife Service may grant consent for the recreational use of drones in a park if they do not cause nuisance or risk or other visitors or wildlife, do not interfere with park management operations and the drone use only operates in the consented area.

Queensland: For recreational purposes you do not need a permit to use a drone in Queensland's National Parks, as long as it weighs under 2kg, there are less than 10 people involved in the film shoot and no buildings or structures are being filmed.

Tasmania: As of November 1st 2016 you can not fly your drone over Tasmanian's National Parks. Personal recreational use of drones, regardless of size/weight, in national parks and other reserves managed by PWS is not supported having regard to safety, wildlife and visitor conflict issues. The PWS is currently developing a 'drone' policy, which will include a provision to designate areas, based on certain criteria, where personal recreational use of drones will be permitted.

South Australia: Drones have been added to the list of remote-controlled aircraft that cannot be flown in a national park without a permit. You will need to apply for a permit with the SA National Parks authority and fines apply for people who do not obtain a permit. Apply for your permit on the SA National Parks website.

Western Australia: Members of the public and commercial operators can request permission to operate their drones through their local Parks and Wildlife Office.

Northern Territory: You will need to obtain a permit to fly a drone in parks and reserves of the NT, both for recreational and commercial use. It's relatively simple to obtain a permit, and you can find all the information about applying on the Northern Territory National Parks website.
** One more important piece of advice: if you're travelling with your drone, it is a good idea to remember that CASA regulations states that all batteries must be in your carry on luggage. To avoid damage, it's always a good idea to carry all photography equipment in your carry on luggage – but this makes it even more important, as you will have a lot of trouble if you're trying to check in drones or batteries in your suitcase. Additionally, if you're batteries are over 100Wh you actually need to inform the airline before flying.
For more travel tips and to keep up to date with our adventures make sure you subscribe to our newsletter today!
The information in this post was supplied by Reef Free Tours and their post Can I Fly My Drone in Australia? The Easy Guide. Check out their website for some of the best adventure tours around Australia's great landmarks at their website: https://www.reeffree.com.au/
* * * Pin for later: