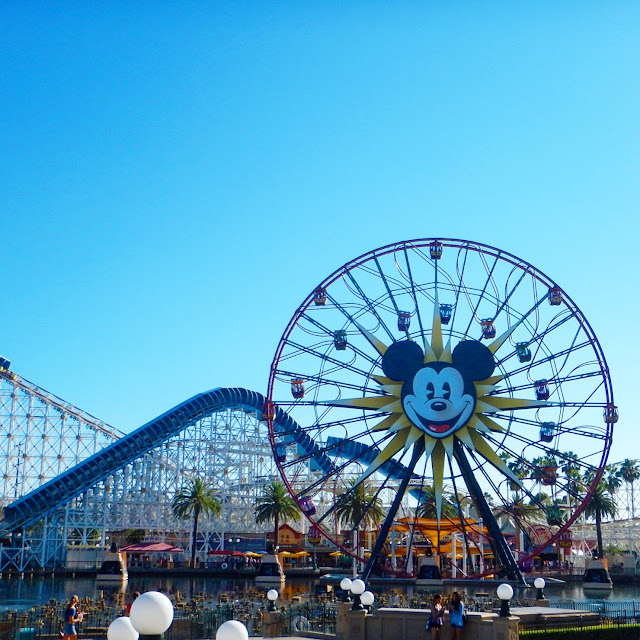 A Very Unofficial Guide To Disneyland
The happiest place on Earth does not disappoint. Disneyland is truly one of the happiest places I have ever spent the day, with laughing kids, happy characters and smiling faces everywhere you look. We spent the whole day at the Disneyland complex, hopping back and forth between Disneyland Park and Disney's California Adventure Park. I think we arrived at about 9am and didn't leave until about 11pm! It was a massive full on day, and I can completely understand now why people buy a two or three day pass to see everything Disneyland has to offer!
Here is my very unofficial guide to spending the day at Disneyland – purely based on how we spent our day. I honestly think every single person that spends the day at Disneyland would have a different experience, based on how many different attractions, worlds, rides and dining options exist in the park! If you're heading to Disneyland make sure you check out their website first to make a list of things you don't want to miss!

Disneyland vs. California Adventure: We chose a two park pass because we (and when I saw we, I of course mean I) didn't want to miss anything. There were parts of both parks that I was desperate to see, so I couldn't settle on just one of them! And we absolutely loved both of them. I definitely recommend checking out both throughout the day, I probably couldn't pick just one park to recommend. Visiting both together really gave us the best day ever!

Rides: Both Disneyland Park and California Adventure have a mixture of family friendly and Thrill Rides. However, coming from Australia and the land of rides such as The Claw, Buzzsaw and Tower of Terror, we found the Thrill Rides quite tame in comparison. Our favourites throughout the day included the Radiator Springs Racers, Tower of Terror, the Haunted Mansion and Indiana Jones Adventure. Skip the "it's a small world" ride!
Character Photos: If you're looking for Mickey and Minnie Mouse make a beeline straight for Mickey's Toon Town. Mickey and Minnie can both be found in their houses, ready and waiting to take a photo with you! We also found Goofy hanging out at his playhouse. You can also often find Mickey, Minnie, Donald and Pluto around the front of Disneyland park throughout the day.
Eating: Dining options are pretty much the same as any other theme park. Although each cafe had a beautifully detailed theme, they all basically offer the same type of fast food options. Definitely bring snacks and your own lunch if you're more of a healthy eater. For an outstanding experience, book in for a character dining experience around the park to be served lunch or dinner by your favourite characters. These restaurants book out fast, so make a reservation as early as possible (ideally, before the day of your visit). And of course, make sure you eat at least one desert in the shape of Mickey Mouse!
Shopping: Mainstreet USA in Disneyland is definitely the best place to do your gift and souvenir shopping. Although the shops may be slightly themed, most if not all the stores offer the same products, so it's unlikely you will miss out on what you had your eye on. The shops are open right up until the park closes, so leave your shopping until the end of the day. You don't want to be carrying around with you all day.
Celebrations: If you're celebrating any kind of special event, Disneyland will have a badge for you to help you celebrate! We saw people walking around with badges celebrating birthdays, anniversaries, weddings, and honeymoons. They even have a first visit badge, which I just loved wearing all day! Hit up any of the stores for your free badge to help celebrate your special day, or even just your first visit to the park like me!
Parades: Mickey's Soundsational Parade starts in Mainstreet USA in Disneyland Park at 4:30pm everyday and features your favourite characters from the Little Mermaid, the Three Caballeros, the Lion King, Princess and The Frog, Aladdin, Peter Pan and Mary Poppins, as well as Mickey and Minnie Mouse, Goofy, Chip 'n'n Dale, Donald and Daisy Duck and Pluto. Alternatively, the Pixar Play Parade in California Adventure starts at 5:15 around Hollywood Land, Pacific Wharf and Paradise Pier each afternoon and includes characters from Monsters Inc, The Incredibles, Finding Nemo, A Bug's Life, and Toy Story.
Fireworks/Light Shows: Each park offers a different end to the day, both as spectacular as each other. The Fireworks Show at Disneyland park is second to none. Starting at 9:30 every night and lasting for at least half an hour, it was honestly the most beautifully impressive fireworks display I have ever seen! Absolutely magical and the perfect ending to a wonderful day at Disneyland. The World of Colour Celebration at California Adventure is just as spectacular an ending to your Disney day! Starting at 9pm and 10:15pm every night, the show features projected film clips on an immense water screen in Paradise Bay as well as a fantastic fire, fog, fountain and laser effects show. It's a hard decision between the two shows, especially if you're only spending the one day at the parks, but if you ran fast between the two worlds, you might just be able to catch them both!
As massive Cars fans, Thom and I were so excited to visit Radiator Springs in California Adventure Park! The Cars Land part of the park was so similar to the movie that you would swear you had stepped right into it! With dining options such as Cozy Cone Motel, Flo's V8 Cafe and Fillmore's Taste-In and shopping at Ramone's House of Body Art, Sarge's Surplus Hut and Radiator Springs Curios, there was really no detail missing! If the line isn't too long make sure you have a ride on the Radiator Springs Racers for a ride around the mountains!
Mickey's fun wheel is by far the most exciting farris wheel I have ever been on! Offering the option of a swinging or stationary gondola, the swinging gondola was a different and interesting wheel experience to say the least! Swinging gondolas will swing and sway independently on the inner rails of the wheel, making for an extremely exciting ride.