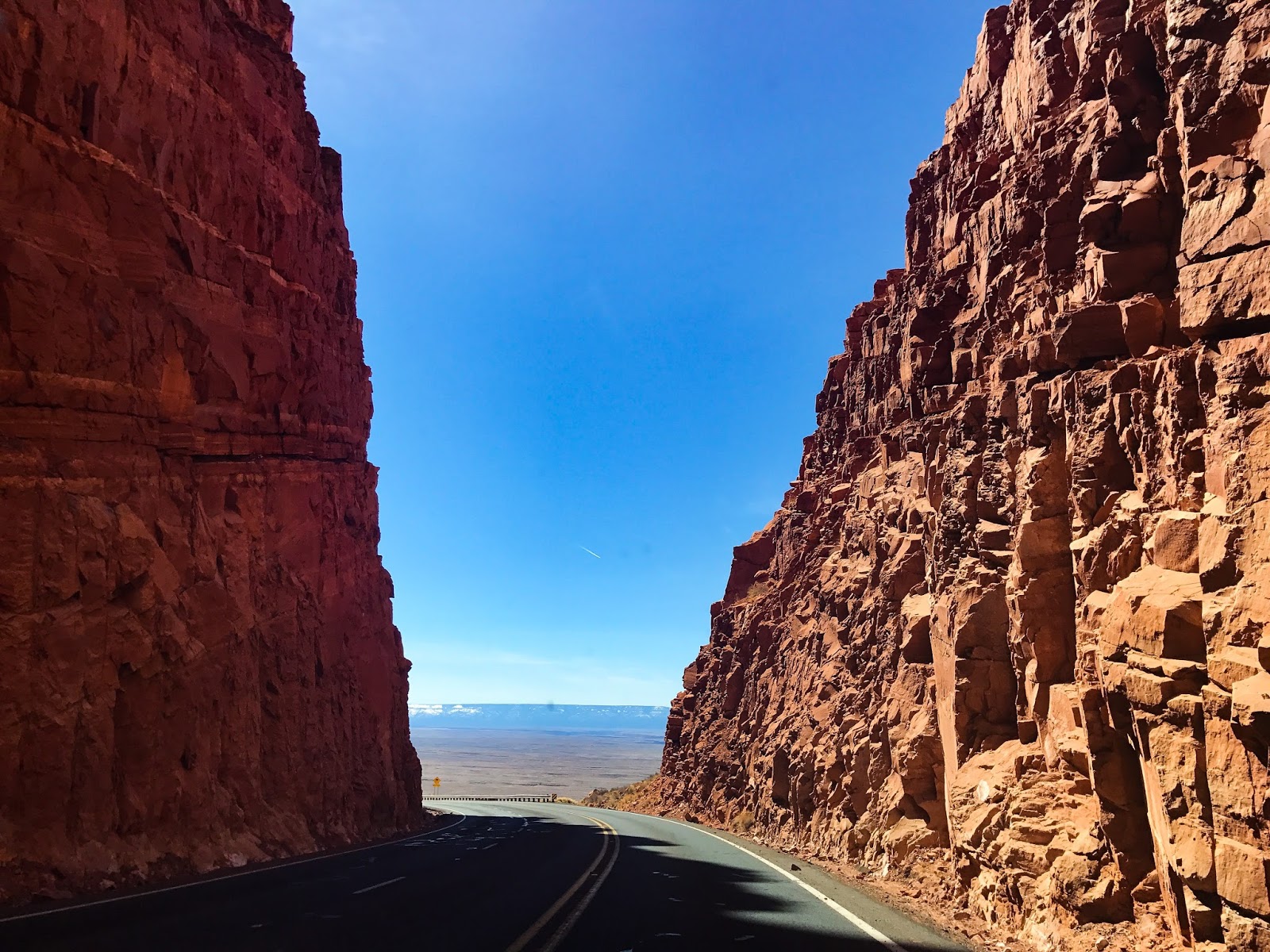 Road Tripping Through Arizona

Leaving Texas, our next stop in USA was Arizona. It was thankfully our last domestic flight in America (we were so over the super early airport call times), and we were planning to spend our last week or so road tripping through Arizona and California. We caught a 6am flight and landed at Phoenix Airport super early, ready for a long day of driving – approximately 6 hours out to Monument Valley.

Our road trip started in what felt like summer time temperatures at Phoenix airport – driving past hills covered in cacti, which turned into mountains covered in snow, before finally ending up back in the desert with the sun shining brightly in 1℃. Even for two people that live in Melbourne, home of the most bi-polar weather patterns you can find, this was CRAZY weather!

There is really not a lot going on between Phoenix and Monument Valley, especially along the freeways. You can't even pull over to get some food without getting off the highway completely – there aren't really rest stops like you find in Australia. Make sure you're stock up in the city with snacks and supplies for the trip before you set out on the road.
The one thing that we weren't prepared for (and that was super annoying and expensive) was that when we arrived to pick up our rental car, we were told that the car we had rented was "too small and unreliable" to drive to the National Parks due to the altitude of the mountains. Yes, my thought was also, why would you offer these cars as options without notifying customers?! So make sure that you rent a larger car option and avoid the economy or budget options – renting online is almost always cheaper than at the counter. The cost of our upgrade was almost double the price of our original rental.

Where to stay
In Arizona, the closest place to Monument Valley to stay is Kayenta – which is located about 25 minutes away from Monument Valley, which is where we stayed. The town of Kayenta doesn't have a lot going on – a couple of small grocery and take away stores and a couple of motels. Literally, the whole town can be found at a two road intersection. From the airport, we drove straight out to Kayenta and stayed at the Kayenta Monument Valley Inn – which was just a basic motel for the night, but it did the job.
If you're coming from the north, Blanding is the closest town to spend the night on Utah's side of the boarder, which is about an hour and 15 minutes away from the valley. The one other option is to stay in Monument Valley itself, which probably has the nicest place to stay across all three of the towns – with beautiful views of the valley from the rooms.

The best thing about road tripping through Arizona was how incredibly diverse and ever-changing the landscape was. It was just beautiful and so different to anywhere I had driven through before. I would definitely recommend stopping along the way for anything unique or interesting you see, because you might not see anything like it again!