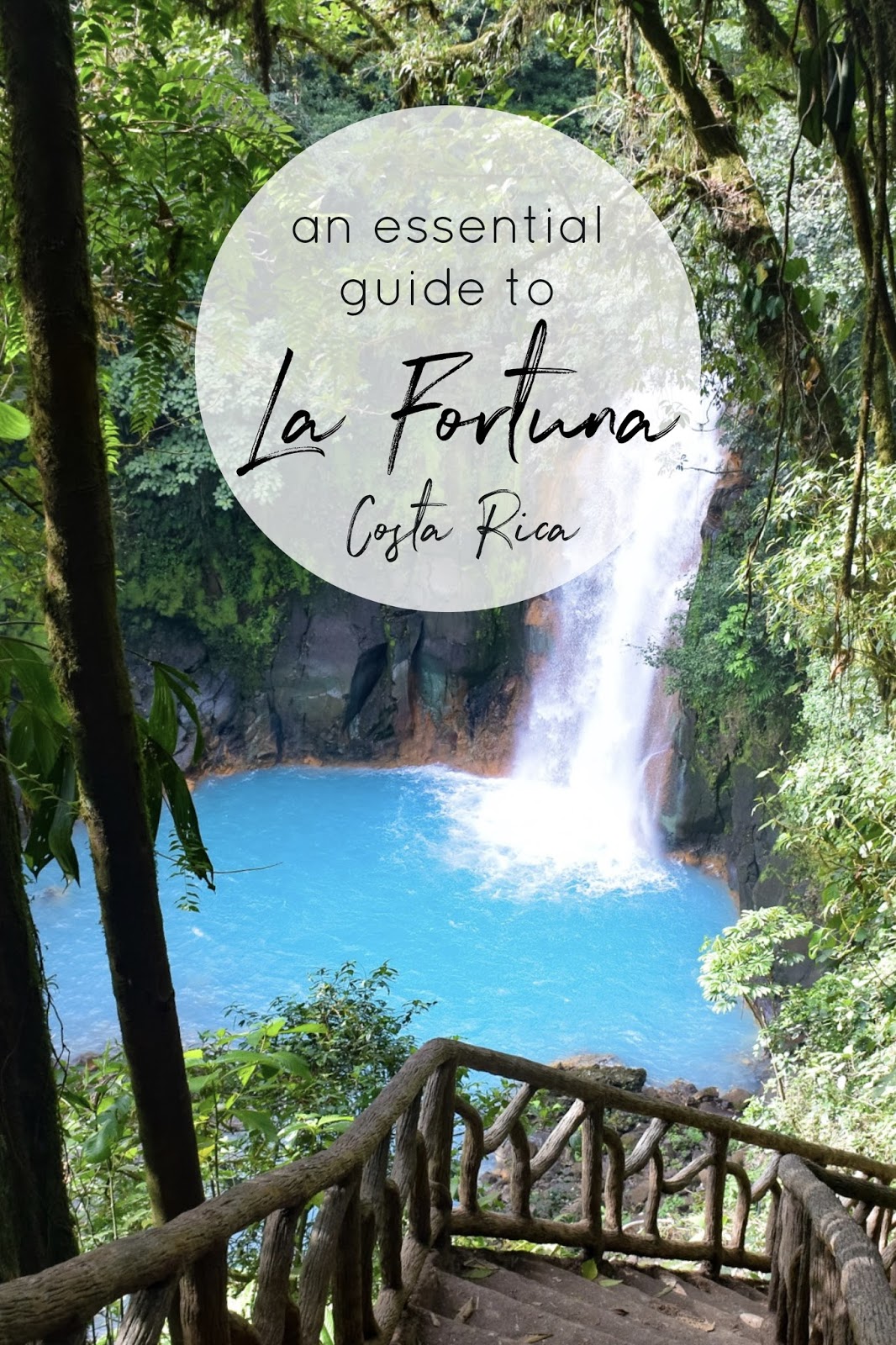 The Essentials: La Fortuna, Costa Rica
Location: Alajuela Province, Costa Rica.

Time Zone: Central Standard Time UTC -6.

Getting There: Arriving into Juan Santamaria International Airport (SJO) in San Jose, the capital of Costa Rica, I would highly recommend organizing a transfer to get to La Fortuna. By car it takes about 2.5 hours to reach La Fortuna from the airport, and that's if you're driving directly! We organized a transfer through our hotel that met us right at the airport gate, it was so easy and efficient. You can also grab a short domestic flight from SJO to the local airport FON. It's about the same price as the transfer, but only leaves once (sometimes twice) a day so check if your flight times match up.

Language: Spanish. Many of the people working in the tourism industry also speak great English.

Climate: Tropical climate, very warm during summer and wet and dry season. You can often expect some patches of rain even during the dry season.

Getting Around: Depending on where you're staying it can often be quite difficult to get around, as natural attractions are spaced out and far away from each other. We visited as much of La Fortuna as we could in one day on a private day tour, so our transportation was pretty much taken care of during our time in La Fortuna. If you're planning to try and get around yourself I would probably recommend hiring a car as the easiest option, as public transport is extremely limited.
The Money Sitch: For our time in Costa Rica we get out all our cash when we landed at the airport. It was more than enough to get us through our time in La Fortuna so we didn't have to go on an ATM search. Most attractions, stores and restaurants do accept credit and debit cards, but I would always carry some emergency cash just in case.
Internet Access: During the days in La Fortuna we were mostly deep in the jungle, swimming in waterfalls and hiking amongst the monkeys, so we didn't try and connect to wifi. Out hotel had excellent high-speed wifi for us to catch up with the online world in the evenings. A couple of the restaurants we ate in also offered wifi.

The Main Streets: La Fortuna de San Carlos is the main street, however if you've chosen a jungle experience accommodation style like we did you will probably quite far away from the main street. Unless you choose a hotel/hostel on that main street I would recommend choosing somewhere to stay that is amazing enough that you don't want to leave.

Best Time To Go: Mid-December to April, the dry season boasting plenty of sunshine to explore everything Costa Rica has to offer.

Can't Miss: Rio Celeste Waterfall, La Fortuna Waterfall, Arenal Volcano and Arenal Hanging Bridges, Tabacon Hot Springs, Arenal Observatory, Monteverde Cloud Forest, Kalambu Hot Springs Water Park, Venado Caves, Proyecto Asis Wildlife Rescue Centre